Prize Day 2018
28th Jun 2018
Today was Prize Day in Whiteabbey PS., a day when we came together as a school community to celebrate the successes of our senior pupils and honour four retired staff by naming our recently formed achievement 'Houses' after each of them. We now have Johnston, Kane, Wright and Young houses with everyone in our school belonging to one of them. The members of each house collect achievement points throughout the year and the winning house has the honour of winning our new perpetual cup.
The "Long Cup" is named in honour of Squadron Leader Tom Long 28/11/1919-6/12/2016 who was a much respected past principal of our school. This year Kane House won the cup for the first time and our retired Principal, Mr. Brian Kane, presented the Long Cup to representatives from the Kane House.
Today was also the last day in Whiteabbey PS for our Year 7 children. Each one of them are very special people with a wealth of talents that will stand them in good stead for the next chapter of their lives. We wish them all well and hope to see them all again very soon.
Many thanks to Tin Man for the fantastic photographs.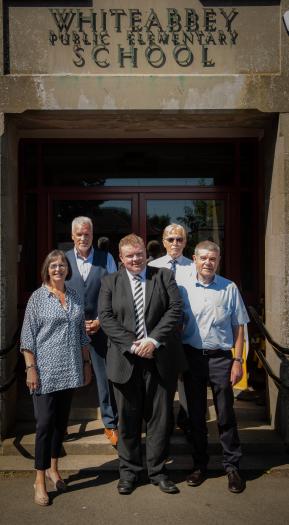 Archive
Whiteabbey Primary School,20-30 Old Manse Road, Whiteabbey, County Antrim BT37 0RU
Phone: 028 9086 2185 Email:info@whiteabbeyps.co.uk