Whiteabbey PS Introduces ParentMail
13th Aug 2017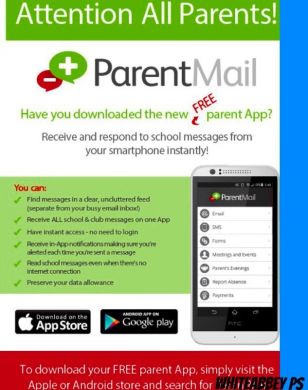 This school year we are pleased to say we have partnered with ParentMail to communicate more effectively with our parents. Previously we would have sent out a lot of letters, consent forms and used text messages to communicate with our parents. These however are all expensive costing the school thousand of pounds each year. If parents register for ParentMail and use the App we can reduce the amount of paper wasted and the number of text messages sent out putting the money to better use. To download the App for free from either the Apple APP store or the Google Play Store simply search for Whiteabbey and you will see our school logo.
Parents can view an introductory video here
Please note we wont be using all the facilities of ParentMail straight away. But we will be using those that we feel are most valuable to us as a school and our parents. Parents will need to be registered on the ParentMail website in order to access the App and will login with their existing account details on the app. Parents using ParentMail with other schools can easily add Whiteabbey PS to their current account.
Should you have any difficulties please do not hesitate to contact our office office@whiteabbeyps.co.uk .
Whiteabbey Primary School,20-30 Old Manse Road, Whiteabbey, County Antrim BT37 0RU
Phone: 028 9086 2185 Email:info@whiteabbeyps.co.uk