Our School, Ethos & Vision
Our School, Ethos & Vision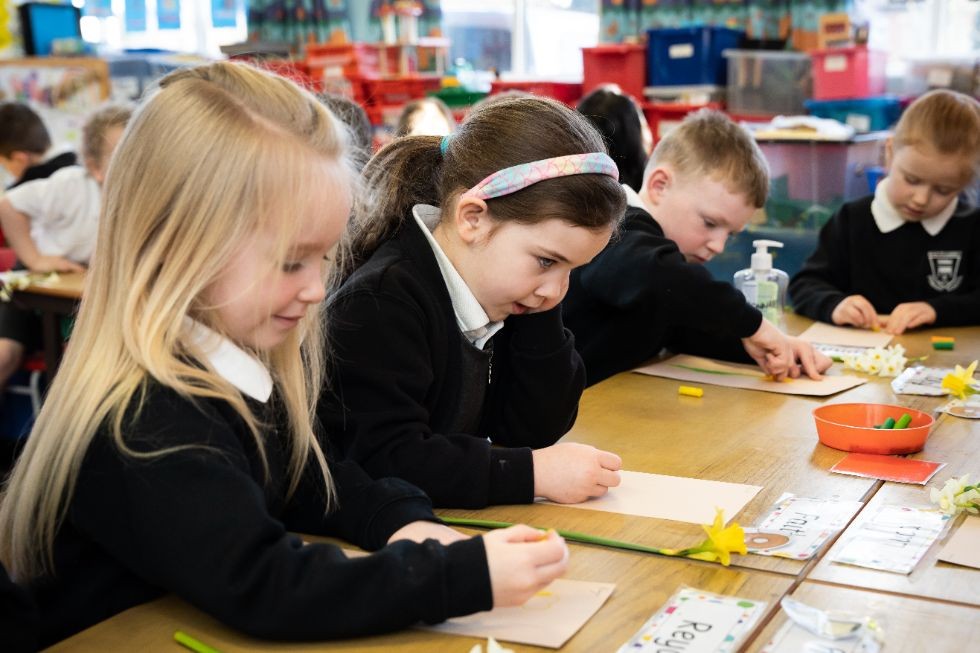 OUR SCHOOL:
Whiteabbey Primary School has a long tradition of child centred learning. Our original school opened in the grounds of Whiteabbey Presbyterian Church in 1839. Then in 1939 our school moved to its present site on the Old Manse Road. There are currently 420 children attending our school. Through the years our children have enjoyed our extensive grounds with mature trees and extensive play equipment that in themselves provide wonderful learning opportunities for many important skills. As our school has grown so the grounds have been developed to offer differing play areas where our little learners can have fun together - play games, kick a ball or just catch up with their friends!
OUR ETHOS & VISION:
Whiteabbey Primary School has and will always be concerned with creating a caring learning community, based on Christian values, in which every member feels valued, supported and happy. All our staff strive to provide an ethos in which fairness, tolerance, compassion and forgiveness permeate all relationships within the school community. High standards of respect, self- discipline, commitment and sensitivity are sought and everyone is encouraged to set and achieve the highest personal, academic and social goals. The safety, welfare and development of everyone in our school community will be of paramount importance to all staff. It is our aim to educate our children to understand and recognise their rights as stated in the United Nations Convention of the Rights of the Child (UNCRC) and uphold the UNCRC to our stakeholders and the whole community within which we operate.
In Whiteabbey Primary School our pastoral care structures have been deemed by our most recent ETI inspection report (2014) as being of a "high quality"... and a "key strength" and are based on a shared understanding that:
Each person is unique and worthy of respect.
Pastoral care is for our entire school community and not just for those experiencing difficulties.
Each member of our school community has responsibility for the caring life of our school.
Pastoral care permeates the whole life of our school.
Pastoral care openly avails of the support and expertise provided by statutory and voluntary bodies in the wider community.
Appropriate resources, policies, procedures and training are provided to ensure the effective implementation of the pastoral care programme.
This stated ethos is clearly evidenced in the daily operation of our school with a clear sense of purpose and identity present among both pupils and staff. This is supported by the maintenance and development of a high quality learning environment.
Time, effort and attention is allocated to ensuring that positive relationships exist at all levels within the stakeholders of our school community and this investment is rewarded by staff and pupils consistently working together in a purposeful and supportive manner.
In Whiteabbey Primary School, the role of our parents in the education process is well recognised and respected. As a school, we value the support that we receive from all our parents especially our Parents Teachers Association and those parents who volunteer in our learning community. We encourage all our parents to play an active role in the education of all our children and endeavour to partner with them in the whole process.
Whiteabbey Primary School,20-30 Old Manse Road, Whiteabbey, County Antrim BT37 0RU
Phone: 028 9086 2185 Email:info@whiteabbeyps.co.uk