School Uniform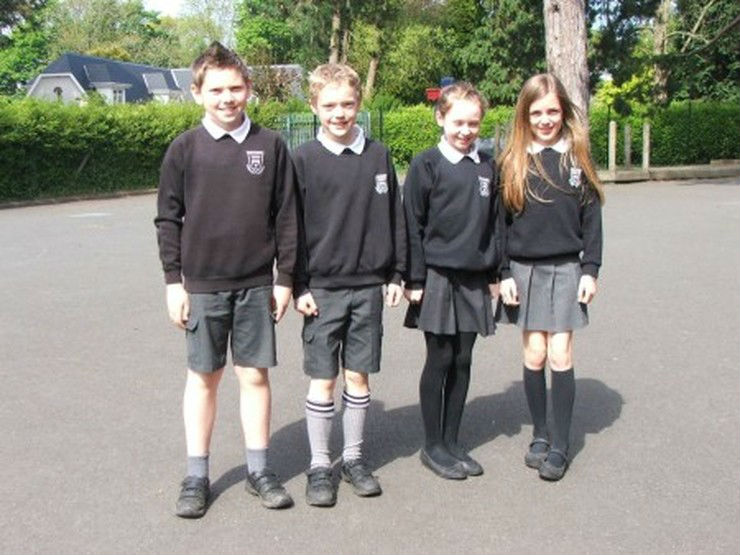 The wearing of full school uniform is expected as an integral part of our school ethos which promotes positive attitudes, high standards and a sense of personal pride.
Our children wear grey shorts/trousers/skirt/pinafore and a black Whiteabbey PS sweatshirt or cardigan and school polo shirt. In the warmer months girls may wear a blue gingham dress.
The school branded items can be purchased through our Parents and Teachers Association (PTA) – they can be contacted by emailing whiteabbeypta@gmail.com or private messaging through their own Facebook page .
Our children wear plain black outdoor shoes and are also required to have black elasticated or velcro PE slippers in school in their PE bag. These will remain in school throughout the week.
To avoid distractions and to maintain a conservative and modest feeling to day to day life, our children do not wear make up or jewellery; except for a wrist watch and if ears are pierced, only one small stud in each ear. No other piercings are permitted.
Our children are expected to have natural hair colours and no extremes in hair style or length. Children should not wear a style of hair with shapes cut into their hair or where there are large contrasts of length. If this is breached, we reserve the right to ask parents to take their child out of school until the matter is addressed.
Whiteabbey Primary School,20-30 Old Manse Road, Whiteabbey, County Antrim BT37 0RU
Phone: 028 9086 2185 Email:info@whiteabbeyps.co.uk